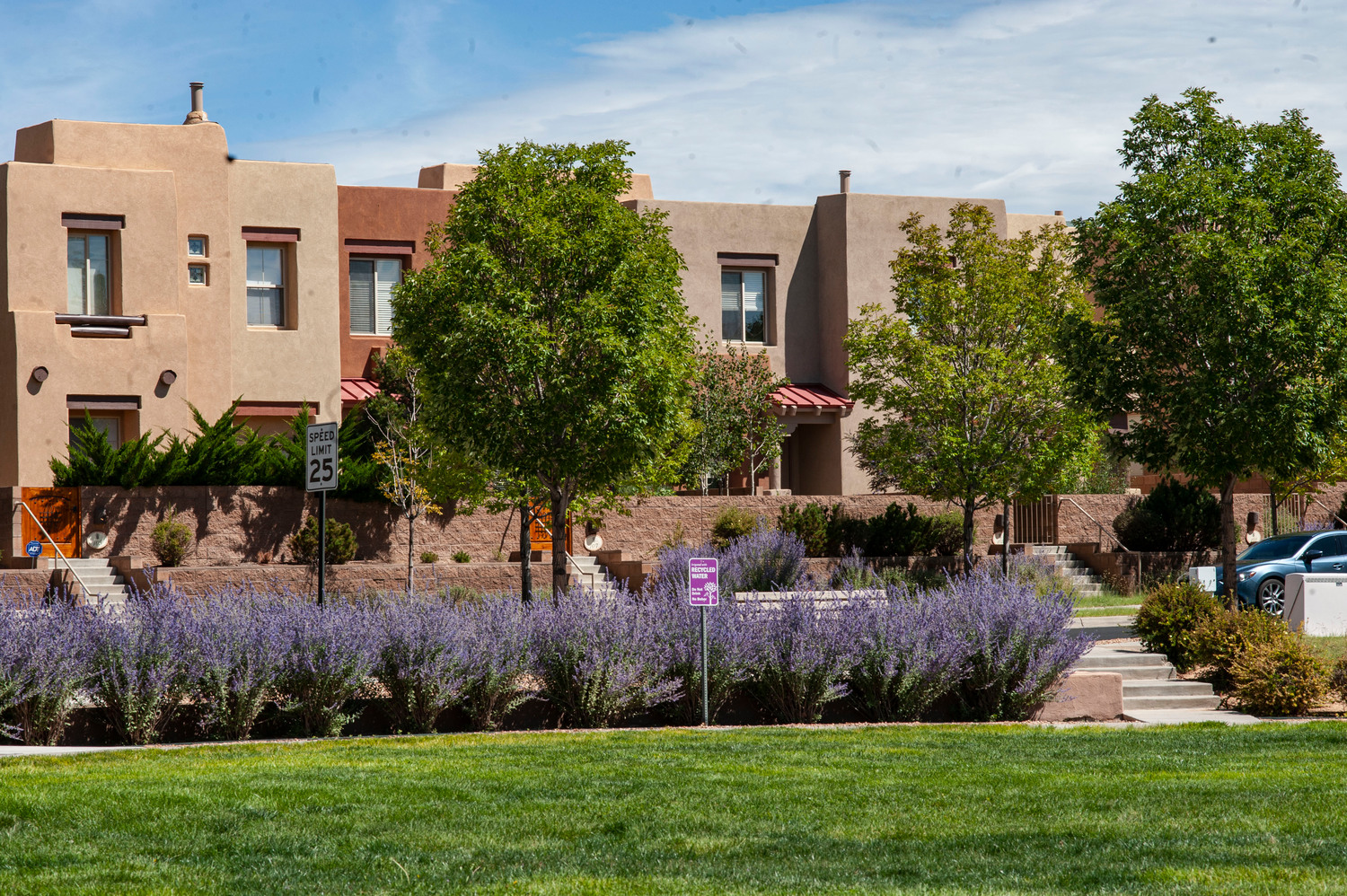 Santa Fe's natural resources and ecosystems sustain life and support community and economic vitality.
Santa Fe: A Tree City & Bee City
Did you know? Santa Fe is a designated Tree City USA and Bee City USA! The City works to plant a diversity of species to support native pollinators and wildlife.
Both trees and bees are vitally important to the health of our ecosystems. Bees pollinate plants, flowers, and crops that we rely on for food. Trees remove carbon dioxide from the atmosphere, provide shade and habitat for wildlife, and help lower temperatures in urban areas.
One way that Santa Fe is protecting our trees and pollinators is through TreeSmart Santa Fe. This initiative uses data-driven insights and an equity lens to leverage "smart trees" that cool our city, conserve energy and water, and nurture vibrant, livable neighborhoods. TreeSmart Santa Fe is a public-private partnership between the City and community partners, including the Santa Fe Watershed Association and the Santa Fe Community Foundation.
Neighborwoods Pilot Program
The City of Santa Fe's non-profit partner, Keep Santa Fe Beautiful (KSFB), launched the Neighborwoods pilot project to increase Santa Fe's tree canopy. The project team identified three neighborhoods where additional tree canopy is needed for the pilot. Within these neighborhoods, participants applied and were selected to receive a tree and a rain barrel, as well as tree planting and care information. The participants have agreed to allow the health and water usage of these new trees to be monitored and documented over the course of the pilot. The data will be used to determine appropriate, waterwise trees to help create a healthy and sustainable urban forest for Santa Fe.
River, Watershed, and Trails
Enhancing Our Watershed & Parks
In 2018, City residents approved a $30 million bond issue for park improvements and renovations. $2.3 million of the bond was earmarked for the Santa Fe River Park, El Parque del Rio. New plantings and irrigation systems provide shelter, breeding areas, and habitat for a wide array of species.
The Santa Fe River Trail currently connects Patrick Smith Park to Siler Rd. with plans to extend the trail system to NM 599. The County will begin construction on the next segment from Siler Rd. to San Ysidro Crossing in 2023. In addition to the multi-use, paved trail system, the Greenway project also includes restoration and stabilization of the Santa Fe River. The hope is to one day provide an off-road transportation option that connects all of Santa Fe and creates an equitable outdoor space for our community to reconnect to the river.
River, Watershed, and Trails
Hiking and Biking Trail Network
In addition to urban multi-use trails, the City's Dale Ball and Connecting Trails and La Tierra Trails provide a network of over 50 miles of hiking and mountain biking trails. These also include some multi-use trails for equestrians. The city's wilderness trails connect to other well-known trails in Santa Fe County including extensive trail systems in the Santa Fe National Forest and Galisteo Basin Preserve.
Fire Risk Reduction Program
The Wildland Urban Interface (WUI) program provides information, assistance and recommendations to homeowners and landowners with property in the areas where forest fires are a danger. The Santa Fe Fire Department (SFFD) is proud to be one of the only fire departments in New Mexico to have a full time Wildland Division that is dedicated to wildfire response, prevention, and WUI issues in and around the greater Santa Fe area. In addition, the department has supported a seasonal wildland firefighting program to help with fuel management in the Wildland Urban Interface and to respond to wildland fires.
Greater Santa Fe Fireshed Coalition
The Santa Fe Fireshed is an area of concern for the City of Santa Fe, Santa Fe County, the Pueblo of Tesuque, and nearby communities. The Greater Santa Fe Fireshed Coalition uses a proactive, collaborative approach to address wildfire risks and improve the health and long-term resilience of forested watersheds and communities. The Coalition's primary goal is to identify and implement high priority on-the-ground projects that make the Fireshed and its communities more resilient to wildfire while maintaining and restoring resilient landscapes.
Light Pollution Reduction
Santa Fe Night Sky Ordinance
In 1999, the New Mexico Heritage Preservation Alliance (NMHPA) declared the New Mexico night sky one of our state's most endangered cultural resources. Santa Fe's Outdoor Lighting Ordinance provides guidance for installing outdoor lights that reduce or prevent light pollution, glare, and light trespass, all of which can negatively impact wildlife and our ability to see the night sky. The ordinance also promotes energy conservation, safety and security, and ensures that our outdoor lighting aesthetically aligns with the character of Santa Fe.
This video shows drone footage of select areas across Santa Fe. "Before" videos show the lighting conditions with old HPS or LED lights. "After" videos show the lighting conditions with upgraded LED lights following the Community-Guided Smart Street Lighting Design Plan, which was aligned with the Outdoor Lighting Ordinance.
Support conservation and ecological resilience efforts in Santa Fe!
---