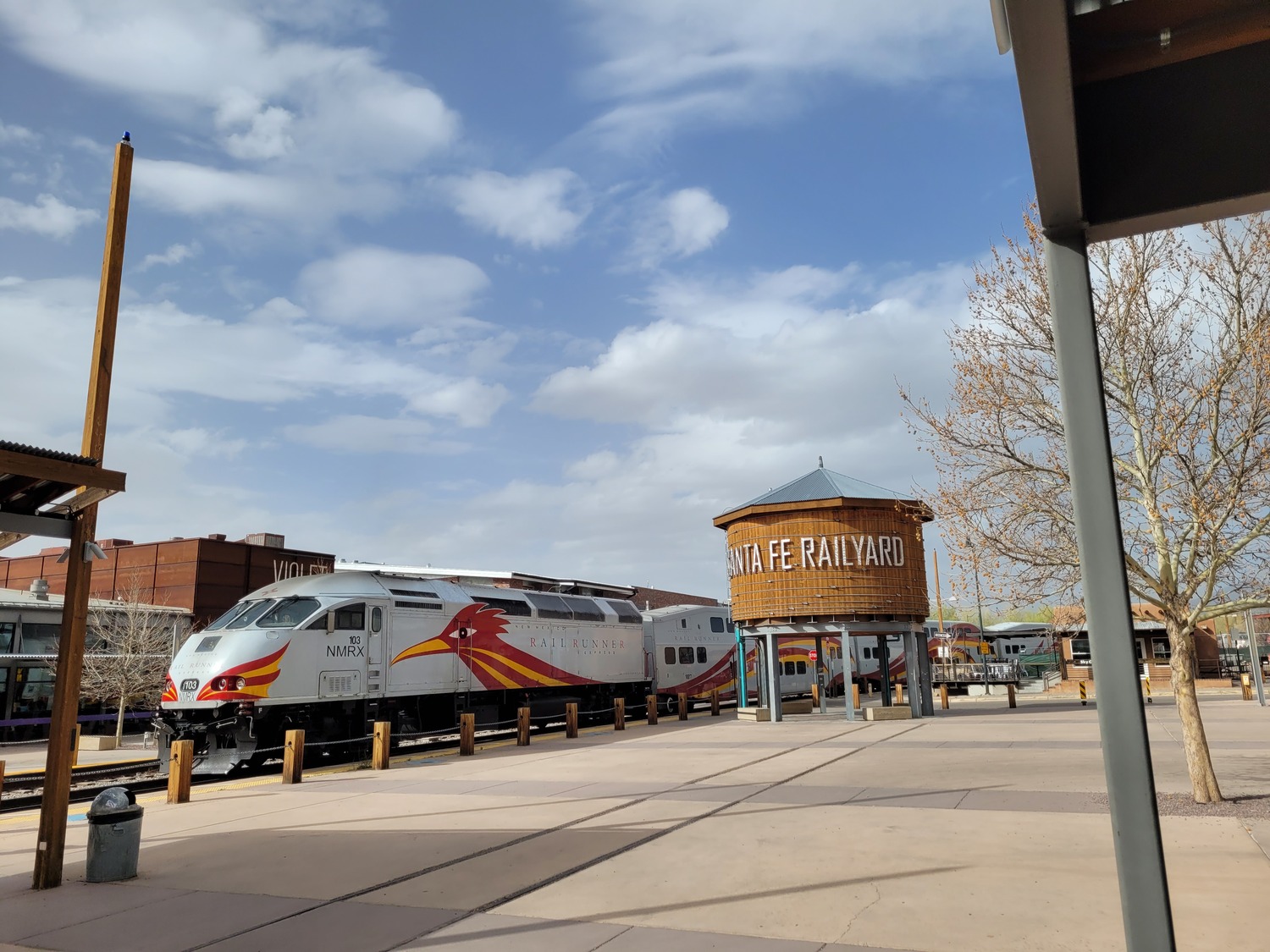 Transportation
How we move matters. Transportation accounts for 34.6% of Santa Fe's greenhouse gas emissions – the largest source of emissions in Santa Fe.
The Impact of Our Vehicles
Traditional vehicles burn gasoline, and that causes problems for our climate and our air quality. Burning fossil fuels creates greenhouse gas emissions, which contributes to climate change, and on-road transportation alone accounts for roughly one-third of Santa Fe's emissions.
Tracking the Vehicle Miles Traveled (VMT), or the total annual miles that the average person travels in a car, can help us understand how much we rely on our personal vehicles to get around and how that impacts our emissions. Since 2017, Santa Fe VMTs have been decreasing; one way that the City is working to reduce VMTs is by connecting people with vanpools, buses, shuttles, and bike routes through the RideFinders service. Santa Fe residents can also reduce their own VMT by driving less polluting cars, such as electric vehicles (EVs).
Sources: City of Santa Fe, LEED Cities Report; Google Environmental Insights Explorer; Federal Highway Administration, Highway Statistics, 2017-2020.
Our Vision for Sustainable Transit
Santa Fe's transportation system is reliant on personal vehicles, which create more greenhouse gas emissions from people traveling alone and makes Santa Fe less accessible for those who do not own a car. The City's transportation vision is to develop a more balanced, equitable, and efficient system that prioritizes biking, walking, public transit, ridesharing, and more.
Stay up-to-date on progress being made on Santa Fe's Multi-Modal Transition Plan that aims to help everyone access the City by public transit, walking, biking, and parking.
Santa Fe Trails: 1 Million Riders
The numbers say it all: public transit in Santa Fe is popular! Santa Fe Trails has transported more than 1 million riders in a single year through its two types of bus service: fixed-route service and on-demand service, which can be requested at any bus stop by calling 505-955-2001.
A strong public transportation system reduces emissions, the need for personal vehicles, and makes our city more accessible for everyone; 55% of the City's unhoused population uses Santa Fe Trails to get around. Santa Fe Trails also offers a complimentary Paratransit program, and veterans, youth aged 18 or under, and Rail Runner passengers can all ride for free.
Santa Fe Trails has been fueled by compressed natural gas (CNG) since 1992, making it the first all-CNG fleet in the nation. New CNG engines release almost no emissions and emit 20 times less nitrogen oxides, another air pollutant, than today's diesel engines. Most of the City's fleet of trash and recycling trucks also run on CNG and the fleet includes over 100 alternatively fueled cars and pickup trucks including electric, hybrid, and CNG-powered vehicles.
EV Charging & Infrastructure
Santa Fe is working to make electric vehicles an option for everyone by installing six additional publicly accessible charging stations. With grants from the 2020 New Mexico Legislature and New Mexico Environment Department, the City will install four electric vehicle charging stations at the Railyard Garage, one at the Sandoval Garage, and one at the Convention Center Parking Garage. Check out the Plugshare map to the left to find a charging station near you.
While EVs reduce transportation-related emissions, more electric vehicles could mean that more electricity is consumed in Santa Fe. It is important for our City to continue transitioning to a renewable electricity grid to support the switch to EVs.
Bicycle and Pedestrian Infrastructure
Santa Fe is recognized by the League of American Bicyclists as a Silver-level Bicycle Friendly Community, but there's still work to be done to make traveling even safer and more accessible for people who walk or ride a bike.
Future plans include improvements to bike lanes and trails in the Santa Fe Metropolitan Bicycle Master Plan, which will make it easier for residents to reduce their reliance on cars while remaining protected. Santa Fe's Multimodal Transition Plan showcases additional strategies such as bike share programs and improving active transportation safety and connectivity.
Change your route to reduce emissions!
---