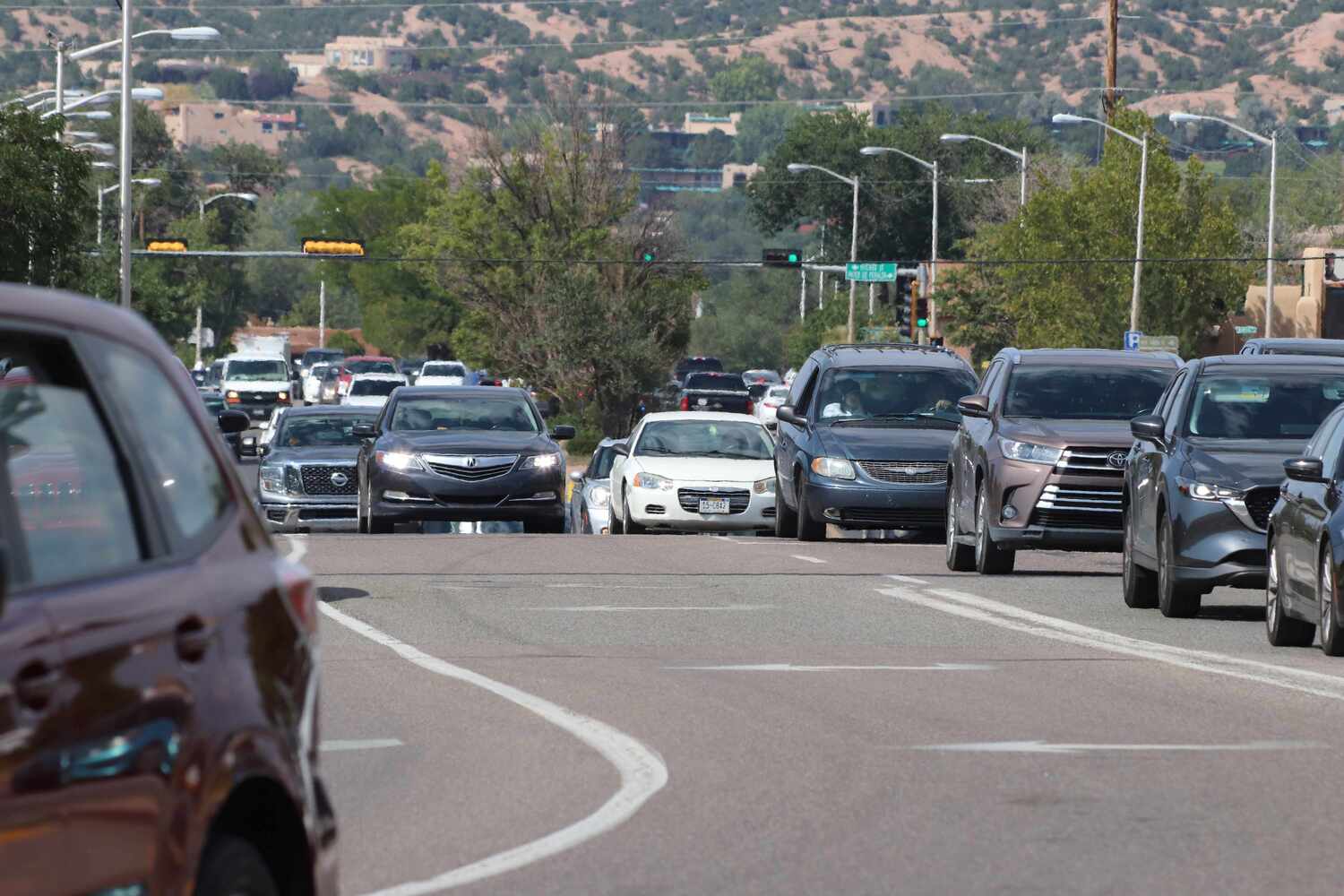 Greenhouse Gas Emissions
Santa Fe is committed to tracking and reducing our greenhouse gas (GHG) emissions and preparing our community for a changing climate.
Climate Change in Santa Fe
Greenhouse gases (GHGs) are essential to life on Earth. They provide a "blanket" in our atmosphere, trapping heat and regulating the Earth's temperature. However, when we burn fossil fuels to power our homes, businesses, and vehicles, we increase the level of GHGs in the atmosphere, creating a much thicker "blanket" that disrupts the Earth's climate. The result is more intense droughts, heat waves, and an increase in the severity and frequency of wildfires, which we are already experiencing in Santa Fe.
The top 2,000 climate scientists in the world have said our window for action is closing.
Climate Change in Santa Fe
We're Already Feeling the Heat
Santa Fe already feels the impacts of climate change, especially during the summer heat. Since 1970, the average summer temperature in New Mexico has increased by 3.3°F (Climate Central). Climate projections show that our future will be hotter and drier. Rising temperatures will also have an impact on our water supply; more water will be lost to evaporation and there will be less snowpack in the mountains to "feed" our rivers. The amount of water that the Santa Fe River contributes to the McClure reservoir is projected to decrease 11 to 18 percent by 2060.
We are building solutions to prepare our city for climate change. Along with its partners and members of the community, the City of Santa Fe has developed a 25-year sustainability plan to reduce our contribution to climate change and adapt to a new normal.
Community Greenhouse Gas Inventory
Reducing Our Contribution
The key to preventing the worst scenario of projected climate impacts is to reduce the amount of GHG emissions that we generate. Reducing emissions is a global effort, and every community can make a difference. Like other states and cities across the country, the City of Santa Fe has set an ambitious goal of achieving carbon neutrality by 2040.
To reduce emissions, we first need to know where they are coming from. The largest source of greenhouse gas emissions in Santa Fe is Transportation & Mobile Sources (34.6% of our total emissions). The second largest source is Residential Energy, accounting for 31.8% of total emissions. Looking at GHG emissions throughout the community helps us understand where there is room for improvement and where our efficiency and reduction efforts have succeeded.
Download our 2021 Inventory of Community-Wide Greenhouse Gas Emissions.
Source: City of Santa Fe, Community GHG Emissions Inventory, 2021.
Community Greenhouse Gas Inventory
What Does "Carbon Neutral" Mean?
Put simply, carbon neutrality means cutting greenhouse gas emissions to as close to zero as possible. The City of Santa Fe plans to reduce emissions in a variety of ways, such as using more renewable energy to power our buildings, reducing the amount of waste that we produce, and transitioning from gas-powered vehicles to electric ones.
Greenhouse gas emissions are partially driven by a city's economic activity. When Santa Fe earned LEED Gold certification from the U.S. Green Building Council in 2020, the City was recognized for being a low carbon economy. Because of smart decisions from business owners, residents, and visitors, we've been able to grow our economy while preventing emissions from increasing – a positive trend to continue on our journey to zero emissions.

Community Greenhouse Gas Inventory
Our actions today have a very real impact on future generations. To drastically reduce GHGs in Santa Fe, we need to rethink how we generate electricity, build buildings, and get around. Our latest GHG emissions inventory shows that we're heading in the right direction. Between 2015 and 2021, we decreased our GHG emissions by 15%! And, we were able to accomplish that despite an increase in our population. This is a major accomplishment that reflects the decisions we're all making to use clean energy, choose sustainable modes of transportation, and more.
Source: City of Santa Fe, Community GHG Emissions Inventories, 2015 and 2021.
Municipal Greenhouse Gas Inventory
In 2018, the City of Santa Fe conducted a greenhouse gas inventory of its own operations. Electricity used for water and wastewater operations accounts for just over half of the City's emissions (50.4%), followed by electricity and natural gas use in municipal buildings and facilities (23.5%).
To reduce its emissions, the City of Santa Fe is currently adding 2.75 megawatts of renewable energy to its portfolio and conducting energy efficiency improvements at its facilities. In total, the project is estimated to save more than $750,000 per year in utility costs, with approximately $500,000 per year of the savings resulting from solar. The City is also transitioning its non-emergency administrative fleet to electric vehicles.
Source: City of Santa Fe, Municipal GHG Inventory, 2018.
Getting to Carbon Neutral
What does it look like to reach carbon neutrality by 2040? Based on science-based targets set by ICLEI: Local Governments for Sustainability, we've modeled a projected pathway to reaching our goal. In the graph below, each color wedge represents the amount of emissions that need to be reduced in a specific sector between now and 2030 in order for us to reach zero emissions by 2040. Decarbonization, or reducing our reliance on fossil fuels to produce energy, will be key to reducing emissions across all sectors. We will also need to consider the gap (shown in gray) between projected reductions in emissions and our goal to reach zero emissions. Closing this gap will require us to accelerate the transition to renewable energy and adopt new technologies for reducing emissions as they become available.
Source: City of Santa Fe, Community GHG Inventory, 2021; ICLEI, "2021 Inventory of Community-Wide Greenhouse Gas Emissions" Report