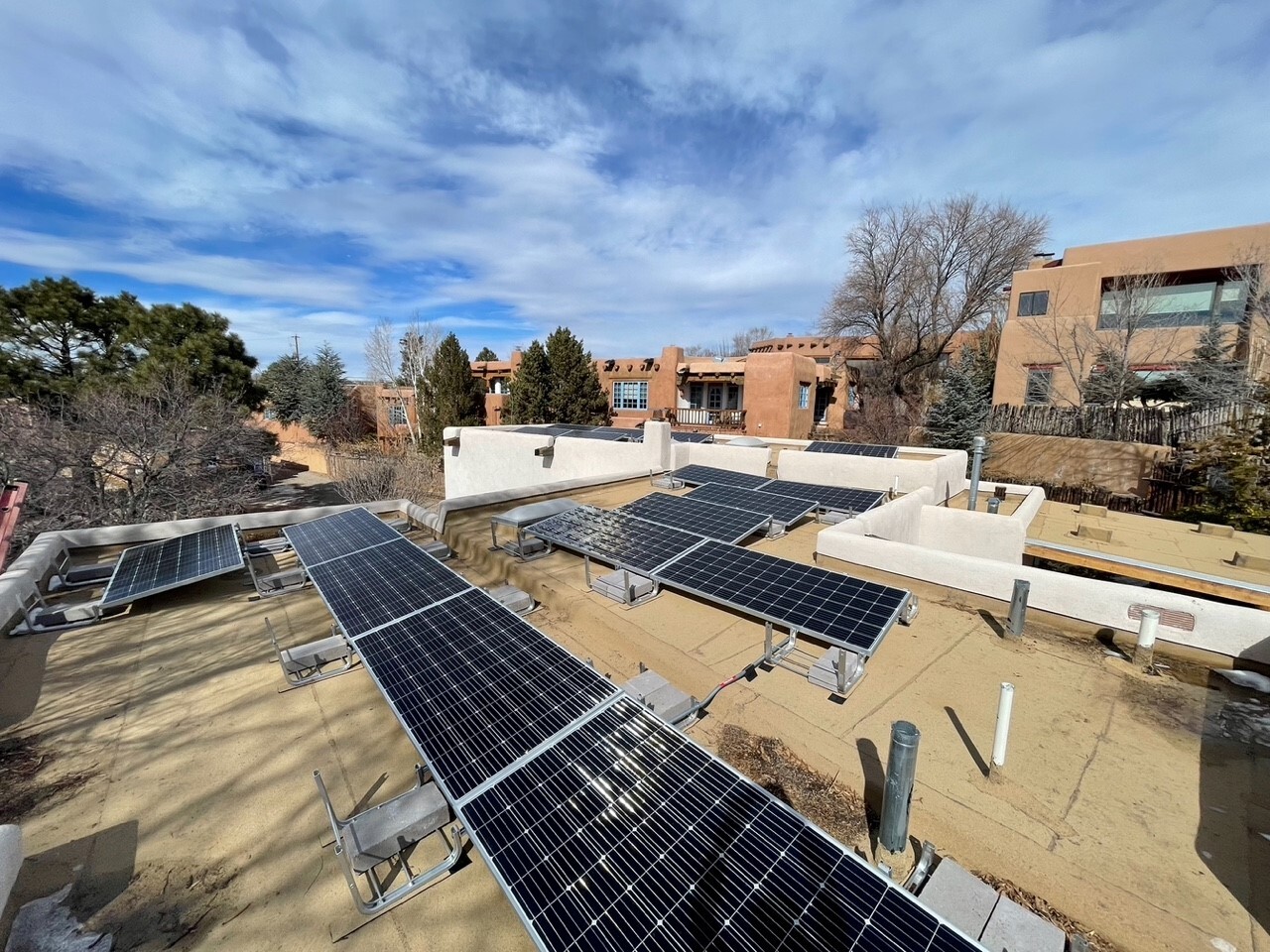 Energy
Residential and commercial energy use are two of the largest drivers of greenhouse emissions in Santa Fe. Transitioning to carbon-free sources of energy and investing in energy efficiency will help Santa Fe to achieve carbon neutrality by 2040.
Our ability to reduce greenhouse gas emissions and mitigate the impacts of climate change will directly depend on how we produce and use energy. Greenhouse gas emissions, the primary pollutant driving climate change, are produced when fossil fuels like coal, natural gas, and gasoline are burned to power our homes and vehicles. In addition to warming the planet, burning fossil fuels can have a negative impact on air quality, human health, and our utility bills.
Santa Fe is powered primarily by coal, nuclear energy, and gas. Electrical power is supplied by the Public Service Company of New Mexico (PNM), which generates and purchases power from a mix of sources. PNM is transitioning to 100% carbon-free energy by 2040, five years ahead of the New Mexico state carbon-free mandate.
51.3% of Santa Fe's energy comes from carbon-free sources (Source: PNM, 2022).
Since 2010, the number of solar permits approved in Santa Fe has been steadily increasing every year. To encourage this trend to continue, the City of Santa Fe launched Solarize Santa Fe to make the process of installing solar as easy and affordable as possible. Solarize Santa Fe is a bulk purchasing program for solar energy designed to help Santa Feans save money on their energy bills. Most participants in Solarize Santa Fe saw immediate energy savings with no up-front cost.
The Solarize Santa Fe Program accepted applications from September 2021 to January 2022. The City of Santa Fe contracted with Santa Fe Habitat for Humanity, Santa Fe Youthworks, and the Coalition for Sustainable Communities - New Mexico to scale up the program in 2023. Visit https://solarizesantafe.com/ to learn more and sign up!
Source: City of Santa Fe, Solar Permits by Year, 2021.
Santa Fe Clean Energy Fund
The City has budgeted $500,000 to launch the Santa Fe Clean Energy Fund in 2023, which will provide financial assistance directly to income-qualified households to install solar panels or conduct energy efficiency improvements. This fund will help residents of Santa Fe overcome significant barriers to clean energy adoption by helping lower the cost of clean energy. It will work in tandem with the Santa Fe Solarize Program to help all Santa Fe homeowners see immediate savings with no up-front cost when they choose to go solar. Clean Energy Funds, or green banks, exist in 12 states. Every dollar invested by a green bank generates almost four dollars in private investment (on average).
The City has undertaken several projects to increase the amount of renewable energy generated in Santa Fe and maximize energy efficiency:
In 2021, the City constructed a combined heat and power facility at its wastewater treatment plant. Combined with an existing solar array, the facility will provide 94% of the power needed for the wastewater treatment plant to operate.
Also in 2021-2022, the City added 2.75 megawatts of renewable energy to its renewable energy portfolio through the City Solar Project. Seventeen sites were selected for solar photovoltaic arrays. In total, these arrays are estimated to save more $500,000 per year in utility costs.
Building codes, land use plans, and neighborhood plans guide the development of our built environment, which directly impacts how much energy is needed to power Santa Feans' homes, businesses, and transportation. They help define the vision and desired character of a community. The City has adopted building codes to support more sustainable development:
Since 2016, the City of Santa Fe has participated in the U.S. Department of Energy's Better Buildings Challenge and has pledged to improve energy efficiency in City-owned buildings by 20% over a ten-year period. The City has already improved energy performance by 15% from a 2011 baseline in 30 buildings comprising 850,000 square feet. Additional improvements that are currently underway, including replacing lighting fixtures to LEDs and upgrading water fixtures, will result in energy savings that exceed the City's 20% goal.
The Santa Fe Community Convention Center has been recognized by the U.S. Green Building Council with a LEED (Leadership in Energy and Environmental Design) Gold certification, and the Southside Teen Center will be a LEED Silver building. In 2020, the entire City of Santa Fe was awarded LEED Gold Certification for its exceptional performance in fostering a sustainable, resilient city. LEED is the most widely used rating system in the world for sustainable design.
Support the transition to 100% renewable energy in Santa Fe!
---